Commercial Solar Solutions
Pope Energy is one of New England's leading commercial solar companies. Our experience and personnel offer end-to-end turnkey solutions for every aspect of a commercial solar installation. Together, our engineers work with business owners to incorporate the best possible solution for large-scale PV solar installations.
In an effort to lower a building's carbon footprint and their energy bill, many business owners have begun to adopt solar energy as a way to generate clean, renewable electricity behind the meter directly on site. In addition to its positive environmental impact, commercial solar solutions are also able to save business owners a significant amount of money on the monthly cost of electricity or generate revenue through a solar lease on a roof, carport or solar canopy over a parking lot or on available land.
Solar + Storage, in a behind-the-meter application, not only reduces or eliminates utility provided energy generation and delivery charges, but can significantly reduce demand charges and offers access to ISO and grid market products.
In Massachusetts, all of our commercial systems over 500 kW are Solar + Energy Storage systems. Energy Storage Systems (ESS) are beneficial to grid operations, may assist in lowering interconnection cost and provide access to demand reduction and grid market products that continue to develop.
By utilizing today's incentives and rebates in addition to qualifying a PV system for accelerated depreciation, going solar has never been more affordable.
Types of Commercial Solar Installations
Ground Mount
Dual-Use Agricultural Solar or Agrivoltaics
Solar Carports or Canopies
Roof Mount on a flat or sloped roof
Building Mounted
Commercial Solar Services
From consultation to installation as well as ongoing maintenance, Pope Energy provides commercial solar services to help business owners adopt renewable energy.
Feasibility and Financial Benefit Analysis
Solar PV Design and Optimization
Solar Panel and System Component Installation
Ongoing Monitoring and Maintenance Services
Customized Solutions for Financing, and Receiving Rebates and Incentives
Commercial Solar Financing
Of course, not every business has the available cash to fund a commercial PV system completely upfront. Instead, we offer solar financing to help businesses begin to save money on their electricity expenses as soon as possible.
Together, we explore custom solar financing options such as CPACE, PPA, and tariff agreements. Additionally, we help business owners identify and earn qualifying rebates and incentives to help drive down the initial cost of the system.
Requirements
Unfortunately, not every building is solar-friendly. Although significant legislation is leading to more and more new construction projects being "solar-ready," there are still plenty of properties that do not have space for solar panels, roof loading capability, nor the amount of daily sunlight to justify their installation.
Additionally, business owners who are leasing their property may not be able to qualify for solar incentives and installations. In our consultations, we explore every possible option to ensure a business meets the requirements to go solar.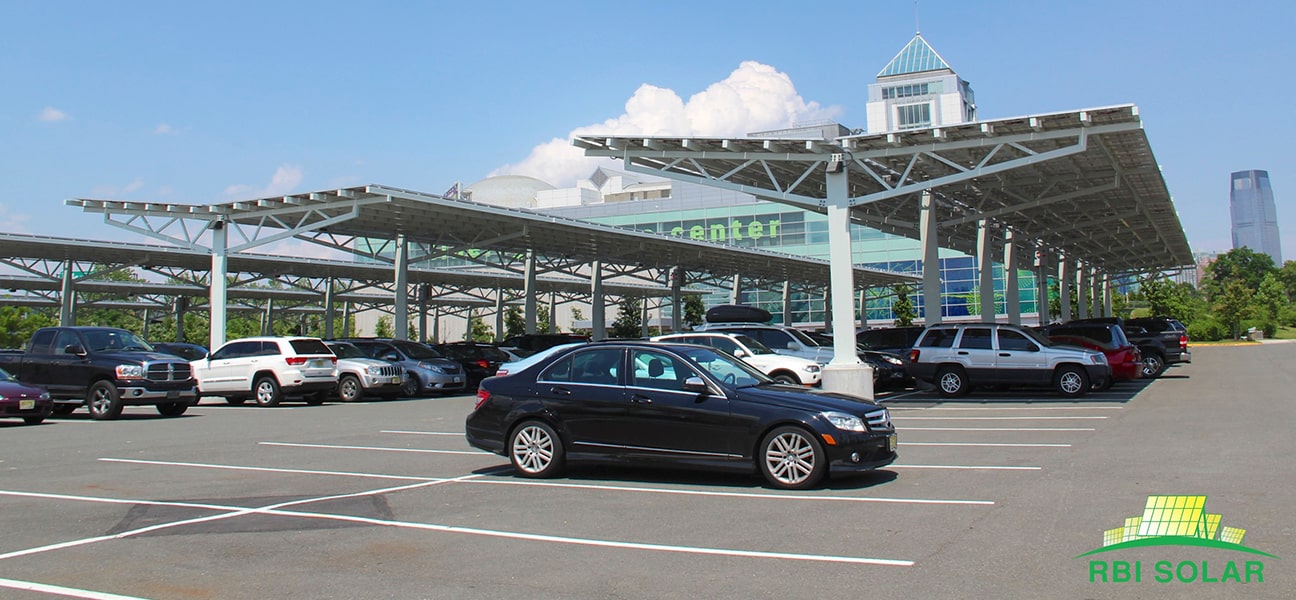 Our Process
Our process is intentionally simple. We make it easy for business owners to go solar by handling everything that needs to be done in order to get the system up and running. To ensure the success of our projects, we take the following steps:
Site Inspection – First we take a look at the property, weather patterns, and solar feasibility of the proposed building site. We analyze a building's roof, as well as any vacant space on the property, in order to identify the best location for the installation.
Design – Next, we analyze a business' electrical demand and match that with a custom-designed PV system to meet energy goals with Tier 1 components. This design is highly-detailed, because it must be approved by local jurisdictions.
Agreement – Once we've perfected the design, next we explore financing options to fully understand the project's ROI. Here, we help identify any incentives, rebates, or claims business owners can make to further reduce the cost of their system. Once an agreement is reached, we will sign a contract and begin the process of insulation.
Grid – Most commercial solar energy systems are tied back into the electrical grid and therefore need to be approved by local utilities. We handle all of the paperwork and processing necessary to ensure a successful interconnection.
Installation – After the system is fully approved, we will move forward with the installation. Pope Energy provides decades worth of experience in construction management and utilizes highly qualified installation teams.
Inspection – Lastly, local jurisdictions will inspect the system to make sure that it is up to code. We handle every design amendment from start to finish, so that when it is time for a system to start producing electricity, the business owner is not required to take any action. From there, clean, renewable electricity is produced so long as the sun continues to shine.
Why Pope Energy
Even though most business owners know that solar is a good idea, adding another thing to the to-do list may seem overwhelming. Pope Energy provides all inclusive commercial solar solutions designed to make the process as easy as possible for our customers.
By working with our team of experienced engineers, business owners can rest assured knowing that Pope Energy will deliver the best possible commercial solar solution to fit their organization's energy needs.
Ready to get started on your commercial PV solar installation? Pope Energy is a commercial solar company based in Boston, serving customers throughout Massachusetts, Rhode Island, Connecticut, New Hampshire, Vermont, and New York. We are here to help answer questions, provide consultations, and work together with business owners to design and install the best possible commercial solar solution. Contact our team to learn more about getting started.
Request More Information
Have a question about the process or want to talk through your next solar project? Let us know down below and one of our team members will reach out shortly.