Solar Solutions for Agriculture
On agricultural properties, solar panels can be installed with little to no interference of day-to-day operations. If there is extra land that receives sunlight, an agricultural solar energy system is one of the best ways to utilize the space.
Most commonly, agricultural land owners benefit from solar energy for farms in a variety of ways:
Designs are Custom Built for Farmers
Racking Systems have Minimal Land Impact
Cows, Cattle and Other Animals Can Still Graze throughout the Field
There is No Disruption to Ordinary Farm Life
Significant Savings on the Cost of Electricity
Powering your Farm with On-site Energy
Agricultural Solar Land Lease Providing Long-Term Annual Revenue
So not only is investing in solar energy financially advantageous, but systems have a minimal impact on a farm's property and inhabitants. What's more is large-scale solar energy systems help offset greenhouse gas emissions, improving the local air quality.
Agricultural Solar Financing
In addition to planning, engineering, and installation, Pope Energy offers agricultural solar financing options to help save farmers the most money on the cost of electricity.
If the total cost of the installation cannot be paid upfront, specialized loans are available for farmers going solar. We can help optimize the terms of solar loan in order to meet the financial needs of landowners while they enjoy a significant reduction (if not total elimination) in monthly electricity costs.
Grants
Grants and tax incentives are available to farmers at both the federal and local levels. In addition to qualifying for the federal solar investment tax credit (ITC), the USDA has granted millions of dollars in funding for farmers switching to solar. Depending on a farm's location, it may also be eligible for grants or tax incentives at the state or utility level.
Land Requirements
In order to build an effective solar energy system, an agricultural property must have land that receives direct sunlight throughout the day. In some instances, barns and other large buildings can have the panels installed on the roof.
Zoned agricultural solar energy systems are held up to the same safety and craftsmanship standards as any other large commercial renewable energy system. Each solar energy system must possess an automatic disconnect switch to protect line workers in the event of grid maintenance.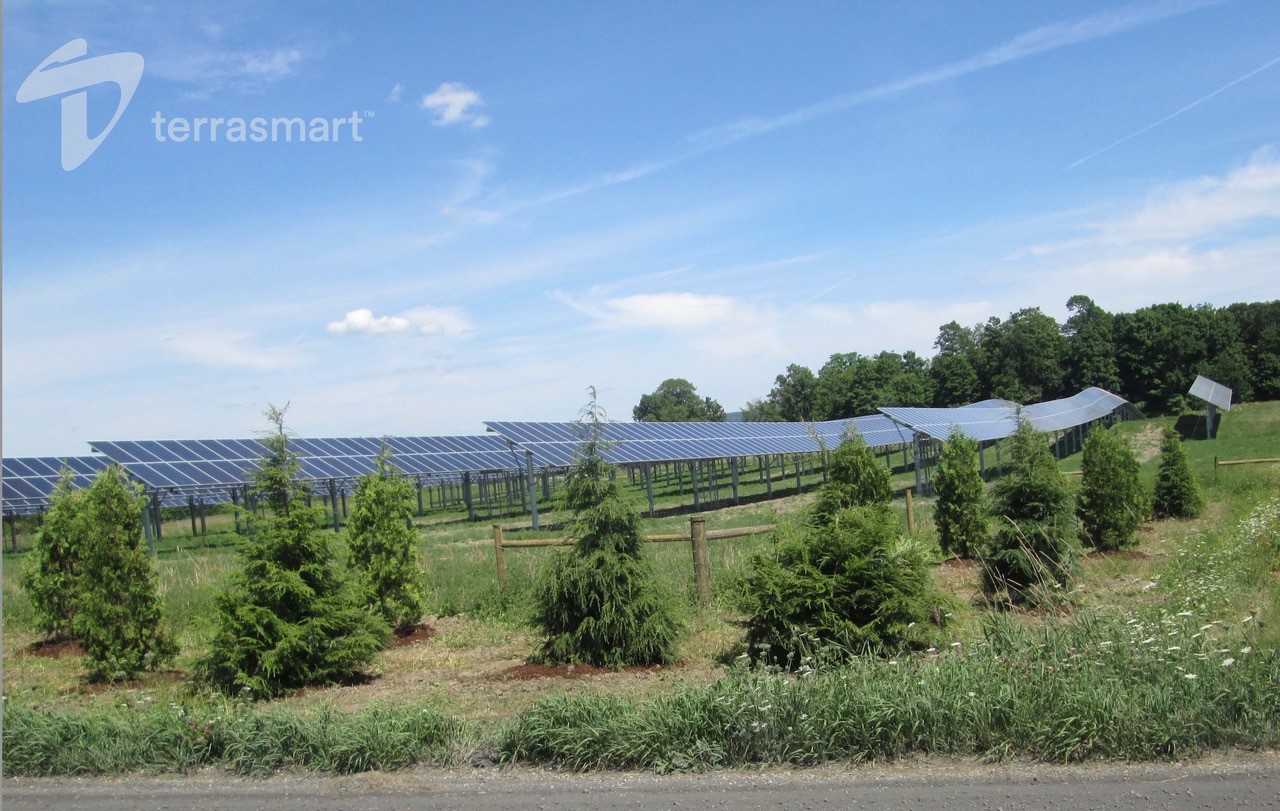 Our Process
When it comes to planning out solar energy for farms, we handle the entire process from start to finish and beyond. For the past 38 years, we've worked with landowners to ensure project success while building relationships and solar energy systems throughout New England. Our process and project management has been refined into the following steps:
Site Inspection – We begin by physically inspecting the proposed build site. In addition to analyzing its solar potential, we take the time to learn about our clients' goals. Here, we identify the rough location and solar capacity of the installation.
Design – The key to a solar project's success is a professional design that will be understood and approved at every level of the installation. Our engineers incorporate a farmer's electricity goals into local construction standards and guidelines.
Agreement – If all looks well, we will move forward with a contractual agreement and begin the process of installing the green energy system. We also help farmers receive all of the relevant rebates and incentives available to them.
Grid Approval – In order to feed the electricity into the grid, we work with the utility for system interconnection approval and maximization of solar energy ROI.
Installation – We provide professional and timely installations with minimal disruptions in ordinary farm life.
Inspection – Together with the local jurisdiction and utility, we ensure your installation is up to code and approved.
Power Your Farm – Enjoy reduced electric costs and on-site renewable energy generation for decades with a behind-the-meter application. In the event of a front-of-meter application where a land lease is utilized, the farm will receive annual land-lease revenue for decades.
Why Pope Energy
Pope Energy has the experience and expertise to create the absolute best agricultural solar solutions. We focus on making the process easy for the landowners and farmers that we work with. After an installation is complete, we offer comprehensive O&M services to ensure the success of a system over its operating lifetime.
So if you are a farmer with a little bit of extra land, we can help you explore the possibility of installing an agricultural solar energy system. Over the past 38 years, we've worked with landowners in Massachusetts, Rhode Island, Vermont, Connecticut, New York, and New Hampshire. Feel free to contact us today if you have any questions about agricultural solar energy projects.
Request More Information
Have a question about the process or want to talk through your next agricultural solar project? Let us know down below and one of our team members will reach out shortly.